I will be the first to admit, I am happy to say GOODBYE to February and HELLO to March!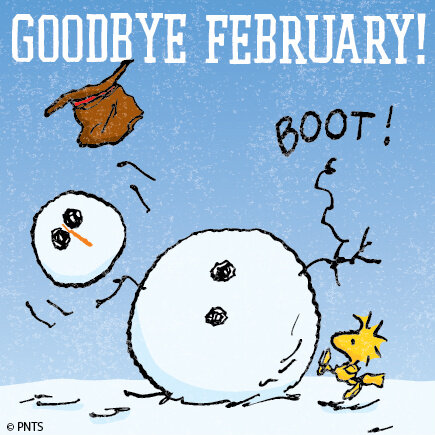 Super excited to turn the calendar and come out of hibernation. Well, at least a little. I hear 90+ million people are going to be affected by yet another winter storm tomorrow…
I'm not worried…
I'm all set for the month.
No need to leave if I have coffee by my side
March is the month of new beginnings and do I have some really cool March Running Challenges in store for me and you! Won't you join me?!
March Challenge #1
#ZOOMAphotoaday by my friends at ZOOMA Women's Race Series and Altra Running.
You can play along on Instagram or Facebook. For instructions on the game click here.
Why play? Because it's a lot of FUN and because there's a weekly winner for a pair of Altra Shoes! HOLLA!
Here's my Day 2: Outside
It was a beautiful morning to say the least! I love, love, love sunrises!
Be sure to include me if you're on instagram! I love to see your posts too! @mamapoolecooks
March Challenge #2
I saw this challenge a little bit late in the day but wanted to add it to the list. Honestly, I need to know what my legs can do.
FitFluential and @Reebok are hosting a 100 miles challenge!
Yes you can win @Reebok gear too!
100 miles is a lot you may say? So did I, but I'm up for the challenge. You can run, walk or hike your 100 miles. It's up to you. To make it even easier, they post a suggestive running schedule as well.
I'm keeping you up to date with my progress as well. I want to see yours too!
Day 1: 2 miles
You need a good old sweat pic for proof right?
Day 2: 5.3 miles. YES!!!! MY LONGEST RUN EVER (so far!)
I should also MENTION…
It's the last chance for 10K Across the Bay 11/9/14: Final block of 5000 entries opens 3/15 & there are over 9K on the wait list. Not only can REGISTER NOW but you can also save 10% by following the steps below:
1 – visit: http://www.active.com/annapolis-md/running/races/across-the-bay-10k-bridge-race-2014
2 – Select "Register Now"
3 – Select "Ambassador Referral Program" Password BRIDGEREP
4 – Register
5 – Enter Coupon Code: ABBAMBERP for your 10% off!
Please PASS THIS TO ANYONE WHO WANTS TO SIGN up
And although I can't attend, I'm passing this goodie along too…
Put your feet in motion on Sunday, March 23 at the 2014 Bright Beginnings 5K in Washington, DC (West Potomac Park) for homeless children and families in DC.
ABright Beginnings, Inc. is a 501(c)3 organization that provides educational, therapeutic, health and family services free of charge to homeless infants, toddlers, and preschoolers, and their families.
All proceeds from the 5K directly support Bright Beginnings' programming that prepares young children for kindergarten and helps their families get back on their feet. Run, walk, or join the stroller brigade!
For More Information Click HERE
Well, that's a wrap. Wishing you all  a warm week!
Question: Do you prefer to watch the sunrise or sunset? Or would you rather drink a tequila sunrise?
var _gaq = _gaq || []; _gaq.push(['_setAccount', 'UA-48567931-1']); _gaq.push(['_trackPageview']);
(function() { var ga = document.createElement('script'); ga.type = 'text/javascript'; ga.async = true; ga.src = ('https:' == document.location.protocol ? 'https://ssl' : 'http://www') + '.google-analytics.com/ga.js'; var s = document.getElementsByTagName('script')[0]; s.parentNode.insertBefore(ga, s); })();